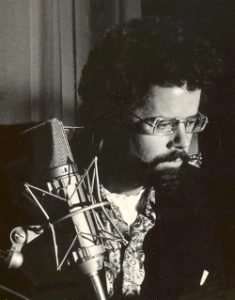 In 1982 I was able to organize a commission for a new work from the distinguished Canadian composer John Hawkins (1944 – 2007). I wanted something that would feature a substantial solo marimba part for me, within the context of a serious percussion ensemble piece that could be performed by NEXUS. At the time I was interested in developing a repertoire for this type of instrumentation, and eventually I commissioned several other pieces of this nature from significant Canadian composers. The 5.0 octave range that is currently standard for concert marimbas was not yet a commercial option in the early 1980s, and so Hawkins wrote for the 4.3 octave range that was available at the time. He completed Dance Variations in August, 1983, and NEXUS premiered and then toured with the work the following year. It is included on our CD Rune, which was released in 1997. The recording was made by the Westdeutscher Rundfunk in Köln, Germany following a concert there by NEXUS in July of 1984.
Dance Variations is a major 20-minute work in six movements. The overall architecture of the piece is an arch form, with the basic material presented in a short first movement. The second movement adds additional ideas, which are then developed at length in the extensive third and fourth movements. The final two movements are again shorter and coda-like. As is typical of Hawkins' mature work, the music is intricately crafted and rhythmically complex, however the underlying harmonic style is drawn from popular song forms, and in particular, idioms of the Broadway musical.
The fourth movement itself is structured as a broad arch, mirroring the general form of the piece, and follows an accelerating, and then decelerating tempo. It features highly elaborate and developmental writing for the marimba, accompanied by tuned roto-toms – a unique orchestrational idea. At the time it was the most challenging marimba part I had ever faced, and it remains one of the most difficult pieces in my repertoire. The recording of this movement, which was made in a single take, includes John Wyre on roto-toms, Russ Hartenberger on glockenspiel, and Robin Engelman on xylophone.